EMG / Umbrella Armory Class III 3.0 Fully Upgraded Custom M4 Carbine Airsoft AEG Rifle
Gun ships with Blaze Orange flash hider to meet US Federal regulations
Umbrella Armory, established in June of 2010 by a group of enthusiast Airsofters, provides advanced tech services for those who are longing for more out of their Airsoft guns. With the use of top tier parts and precision tuning, Umbrella Armory strives to enrich the Airsoft experience by bringing out the true potential of an Airsoft gun.
Evike Manufacturing Group (EMG) is the R&D division of Evike.com which specializes in high end / top tier custom guns and equipment that is suitable for training as well as skirmishing. EMG works very closely with various manufacturers and custom shops to make sure the highest level of quality and performance standards are met for each product.
The collaboration project between EMG and Umbrella Armory brings us one of the first in the line of performance oriented custom guns that feature fully built internals with outstanding externals. These finely tuned guns feature stylish designs, crisp action, snappy response, match performance, and the durability to be used hard and keep coming back for more. No detail has been overlooked and each part has been carefully chosen for its merits in what it brings to the build as a whole.
Features:
Custom precision CNC machined aluminum upper and lower receiver
Precision laser engraved EMG and Umbrella Armory trademarks
Weather resistant matte black anodized finish
Ambidextrous magazine release
12" M-LOK handguard
13" G&P barrel
PTS 51.0 battlecomp 2.0
G&P laser engraved 6-position buffer tube
Matrix charging handle
PTS EPG-C motor grip
PTS backup sights
PTS EPS stock
ZCI sling plate adaptor
G&P M4 receiver parts kit with metal hopup
Retro Arms CNC machined selector switch (red); tuned for smooth operation with distinct detent clicks
Retro Arms CNC machined match trigger (red); tuned for short travel and smooth pull
Retro Arms 8mm gearbox
Siegetek Concepts CNC chromoly steel gear set (14:1 ratio)
Ultra fast rate of fire (33 RPS)
Lonex Aluminum CNC cylinder head
Lonex ventilated POM piston head
Rocket Airsoft Full Steel Tooth Piston
UA 8mm bearings
Prometheus M135 steel spring
SHS long nozzle
ZCI spring set
Starwei 30000 RPM motor
Gate titan V2
Prometheus 6.03mm inner diameter 380mm tight bore inner barrel
Rocket stainless steel cylinder
Rocket MIM piston
Guarder V2 tappet plate
VFC M4 air nozzle
Lonex ARL
R-hop tuning
Precision gearbox shimming and fine tuning for optimized cycling
Magpul M-Lok vertical grip included
Low profile T1 style optic with CNC milled tall mount included
11.1v 1600mAh LiPo battery + BMS charger included
5x high RPS polymer mid-cap magazines included
Hard case included
One year extended warranty
Length:
773mm - 853mm (Adjustable)
Weight:
2900g
Inner Barrel:
~380mm
Magazine Capacity:
130rd Mid-Cap Polymer Magazine. Works with Matrix, G&P, Tokyo Marui and other compatible M4 / M16 Series Airsoft AEG Magazines
Muzzle Velocity:
400FPS (Measured w/ .20g BB)
Rate of Fire (ROF):
29-30 Rounds Per Second
Thread Direction:
14mm-
Caliber:
6mm Airsoft bb.
Gearbox:
Umbrella Armory Custom V2
Battery:
11.1v Small Type LiPo Battery Recommended (Wired to stock w/ DEANS)
Fire Modes:
Semi/Full-Auto, Safety
Package Includes:
Gun, 5x Mid Cap Magazine, LiPo Battery, LiPo BMS Charger, Red Dot Optic, Vertical Grip, Hard Case
Hopup:
Yes, Adjustable
Manufacturer:
EMG / Umbrella Armory Collaboration
Things you may need to get started:
Battery and Charger – Required to power your AEG; use a high quality battery and charger for best results.

Spare Magazines – Stay in the fight longer by bringing more ammo with you.

BB's – High quality precision 6mm BB's recommended; Use 0.20g – 0.25g BB's for best results.

Silicone Oil – Basic cleaning and lubrication maintenance help keep your Airsoft AEG in top working order.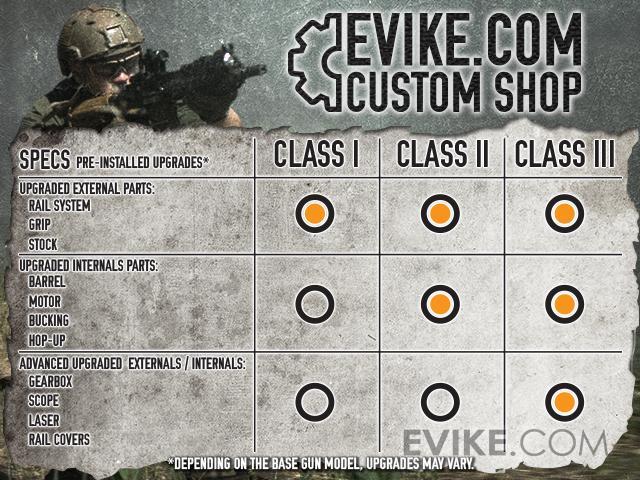 Warranty Information:
Umbrella Armory Inc. is steadfast in our commitment to customer satisfaction. As a result we offer an extensive 365 day warranty on many of the internal parts used in the OCAW Alpha Series systems.
Warranty covers all defects in material, workmanship, and or assembly.
Warranty does not cover:
(1) Malfunctions or defects resulting from unauthorized repair, modification, or careless handling.
(2) Malfunctions or defects resulting from use of defective or improper projectiles (BBs).
(3) Malfunctions or defects resulting from abuse and/or failure to properly maintain.
(4) Malfunctions or defects resulting from criminal negligence or use under the influence of drugs and/or alcohol.
(5) Internal Breach of any kind.
(6) Scratches, Blemishes, or external wear marks on plastic or metal component parts.
(7) Wear and tear components including motors, pistons, batteries and electrical wiring.
(8) Any Accessories and External Components (Anything outside the Receiver). For Example the Receiver, Buffer Tube and other externals.
If your Umbrella Armory product is found to be defective during the applicable warranty period from the original date of purchase, Umbrella Armory will repair, or at its discretion, replace with new, used, or equivalent model, the defective product without charge for parts or labor.
**Warranty only valid in the United States
Already Purchased?
Register for Product Updates and Registrant-only Specials!