Welcome to EMG ARMS
EMG (Evike Manufacturing Group) was established in 2001 with a mission to create the ultimate training weapons for law enforcement, military training, and war-game simulations.

The EMG WAY - You cannot Wikipedia or Google a word to describe what we do. It is not "tradition", though our craft is timeless. "Limitless" is too limiting. "Enduring" is not enduring enough. "Innovaction" can only begin to describe it. We sculpt, paint, and explore. But explorers, sculptors and painters we are not. We are experts in airsoft and training weapons. We want the owners of every piece of EMG training equipment to be the proud, the elite, to love what you do, and to dominate the battle field. The EMG vision is to create the ultimate Airsoft training weapon, the perfect equipment we would use ourselves. To materialize this vision there's only one way. The EMG way!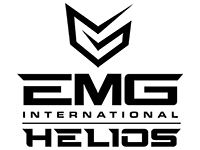 Helios by EMG brings a whole new line of never-before-seen products to the Airsoft market. The Helios vision is to recruit more players to enjoy the sport of Airsoft by offering the same high quality internals, the same high performance, and the same level of care in the QC process as its bigger brothers in the EMG lineup, but at a much more affordable price point. We work directly with the manufacturers to ensure the lightweight externals look and feel amazing and are highly detailed.
Address
EMG Arms, Inc.
2801 W. Mission Road.
Alhambra, CA 91803
USA
Information
+1 (626) 407 0261

+1 (626) 285 8622
Business Hours
M-F: 9am - 5pm PST
Sat/Sun: Closed
International Distributors
Asia / Europe
APS
APS Airsoft
Asia / Europe
ARES
ARES Airsoft
Asia / Europe
AW Custom
AW Custom Airsoft
Asia / Europe
G&G
G&G Armament
Asia / Europe
G&P
G&P Laser Product
Germany, Austria, Netherlands
GSG
German Sport Guns
Hong Kong
Armed Forces
Armed Forces HK
Japan
UFC
Union Fire Company
Poland
Gunfire
Airsoft and More
UK
iWholesales
iWholesales Ltd
USA
Evike.com
Airsoft Superstore